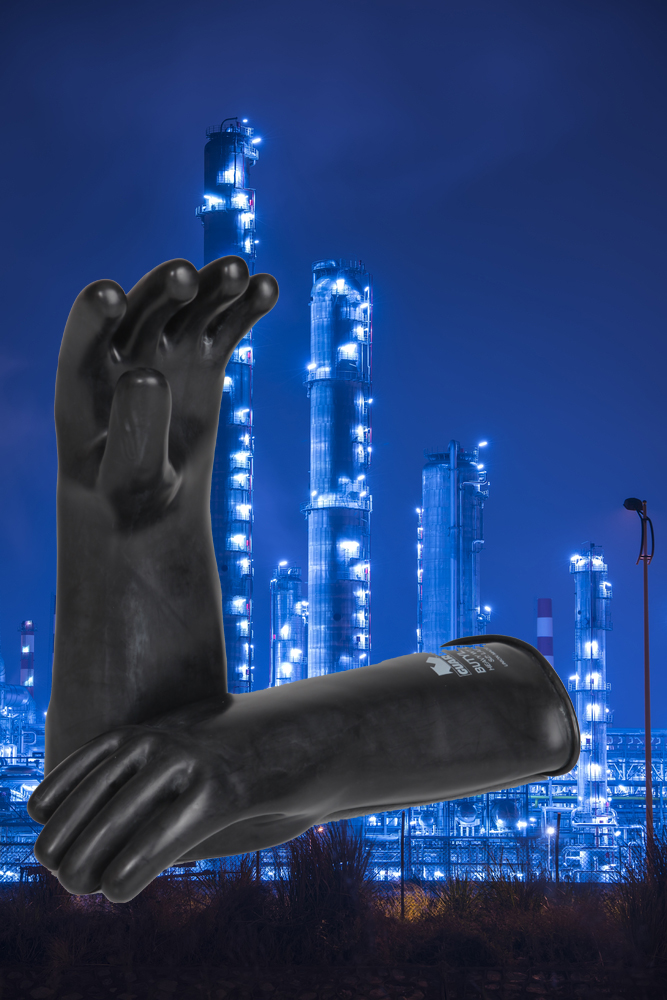 Length: 11 inch, 14 inch
Thickness: 5, 7, 13, 14, 20, 25, 35mil
Hand Style: Curved R/L, Fitted R/L
Finish: smooth, rough
Size: xs, s, m, l, xl (Fitted 7, 8, 9)
Guardian Style #: CP-5, CP-7, CP-7R, CP-13, CP-13R, CP-14, CP-14R, CP-20,CP-20R, CP-25, CP-25R, IBA-35
Packaging: poly bag/pair in 1-2 pair box
Shipping:1-2, 12, 60 or 100 pair boxes
Butyl Short Availability
Guardian® chemical resistant gloves are the hallmark of bio-chem warfare protection for troops, first responders and is widely used by several industries (see Markets). The unique, solution-dipped process provides seamless, tight molecular structures, the key to chemical impermeability. The Surgical Fit or "Fitted" option provides a snug fit for precision tactility. Multiple thicknesses are available depending on the chemicals and length of exposure (vapor or emersion). See Resources. Guardian's ROUGH-GRIP™ finish provides preferred surety of grip for slick or wet surfaces. Guardian's 5 & 7mil Butyl gloves are prefect for First Responders dealing with the likes of Fentanyl that readably penetrates disposables. Guardian's thin/lighter gloves address Center for Disease Controls warnings of the prevalence of skin absorption thru disposable gloves in a broad spectrum of industrial and household chemicals. See News. Guardian butyl provides anti-static and fully conductive gloves.